Buses Operating in the Parish
Despite the loss of a number of bus services through the parish, we still have direct access to a variety of areas including Eastville Shopping Centre (5), Bath & Cribbs Causeway (19), Keynsham (19A), Yate (Y2), Emersons Green, Lyde Green & Temple Meads (48 & 462).
Wi-fi connections will become available on all services over a period of time.
The following buses operate through Downend.
Bristol-M32-Fishponds-Downend-Coalpit Heath-Yate
This bus service now terminates at Yate. Frequency has been reduced to an hourly service.
No. 19A (Formerly 319A) >
No. 48 (24-hour Bus Service) >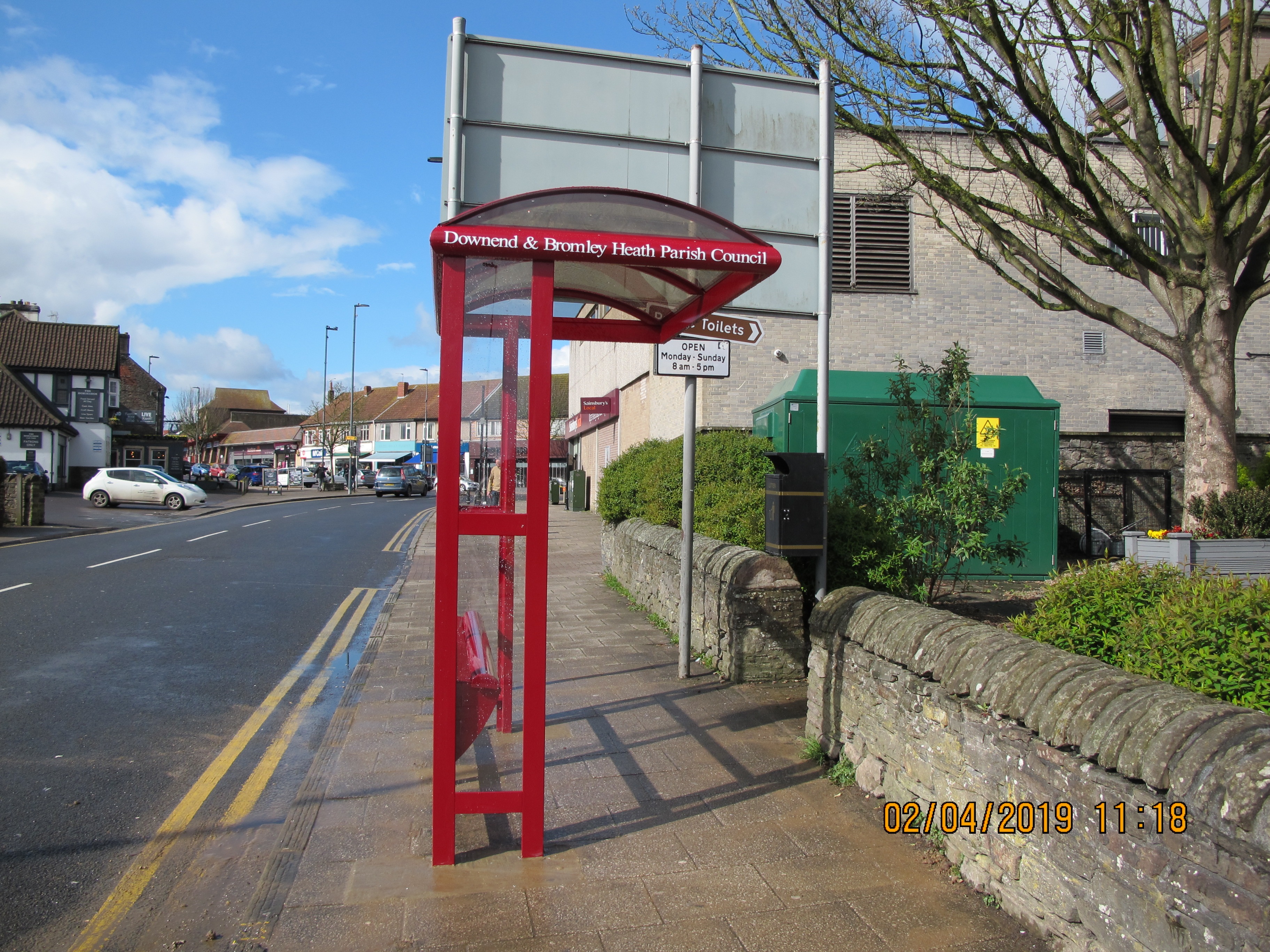 Bus Timetables
Timetables for all bus services can be accessed on www.travelinesw.com
Paper timetables and Bus Maps are also available from the First Travel Shop at Marlborough Street Bus Station in Bristol.
Timetables are also available from Downend Library.

You can also check out the First Bus times by clicking on the First Bus logo below.
Bus Shelters
Did you know there are 47 bus stops in the Parish?
36 of these bus stops have bus shelters. Of the remaining 11 bus stops without bus shelters the pavement is too narrow to site bus shelters at 8 of these bus stops. The shelter has been removed from the bus stop in Queensholm Drive on safety grounds after a number of accidents involving buses. There are 2 bus stops for alighting passengers only, so bus shelters are not necessary. The bus stop outside Downend Toilets is currently used as a layover stop for the number 5 bus service, before returning to Bristol. The large old shelter has now been replaced.
Rapid Transit Scheme (Metrobus Route)
The first section of the Metrobus route,M3, (Emersons Green to Bristol City Centre) is now open. The nearest bus stop is by the Willy Wicket, with a second stop near the Hambrook traffic lights. The route into Bristol is via UWE Campus, so journeys are not as quick as originally envisaged. Residents from much of the parish have a lengthy walk to use this service as it does not operate through the parish.
Metrobuses are a distinctive grey and green colour.  A range of tickets are available from Metrobus ticket machines – which do not accept cash – or from the Central Bus Station in Marlborough Street, Bristol. M-ticket app is also available.
Introduction of the Metrobus has had a damaging effect on bus services through the parish. The X48 Lyde Green to Bristol express bus service has been withdrawn and the Y2 (formerly 47) bus service has been reduced to an hourly service which now terminates at Yate.
Parking
Parking for the Disabled
There are six designated parking bays for disabled drivers within the Parish as follows:-
Downend Centre, outside the Banks
Downend Centre, outside the Well Pharmacy
Downend Clinic, Buckingham Gardens
Downend Library, Buckingham Gardens
Quakers Road, opposite The Sandringham Public House
Cleeve Wood Road shops, outside the motorbike shop
These parking bays are for the benefit of disabled drivers and we ask drivers without a blue badge to refrain from using them as there is adequate free parking elsewhere.
Pavement Parking
Many drivers now park their vehicles partly on the pavement to leave wider access for vehicles using the road. It is essential to leave sufficient space on the pavement to enable people with sight impairment and their assistance dogs, wheelchair users, baby buggies and pedestrians to move freely along the pavement. Pavement obstruction is an offence.
Verge Parking
Many drivers are also parking their vehicles on the green verges leaving the grass churned up or a slippery muddy mess which is dangerous for pedestrians. The verges are owned by South Gloucestershire Council, who have the right to charge for rectifying damage. Vehicle obstruction is also an offence.
Your Parish Council is responsible for the cost of cutting the verges. These costs are still payable when vehicles obstruct the verge preventing the workforce from completing their work, so please remove vehicles from verges in the daytime.
Roads
Bromley Heath Road/Cleeve Wood Road Junction
Some time ago, we wrote about lengthy delays and traffic build-up at the junction of Bromley Heath Road/Cleeve Wood Road since the new traffic light sequencing was introduced by South Gloucestershire Council as a safety measure.
We received a large number of responses to our consultation on the proposal from residents of cutting back the grass verge, moving the pavement back and widening the road to create a left hand filter lane into Bromley Heath Road to ease the traffic flow. Several other suggestions were received and are being considered.
The road works for the Rapid Transit Scheme (bus route) along the A4174 Ring Road had a major impact on traffic along Bromley Heath Road. In view of this the consultation was put on hold until the work is complete and traffic patterns have returned to normal. The responses to the proposal will then be reconsidered.
South Gloucestershire Council will only consider this proposal if there is significant local support, so it's up to you to let us know your views. We can be contacted on clerk@dbhparishcouncil.co.uk.
Badminton Road Accident Site
Bollards have finally been installed at the Badminton Road accident site, replacing the damaged wooden fencing along the kerb side. Hopefully these bollards will prevent further accidents on this bend.
Road Repairs
Sandringham Avenue was resurfaced some time ago, followed by Glendale, a section of Queensholm Crescent and the top section of Church Lane. Subsequent damage in Church Lane, caused by lorries delivering to the building site at the top of the road, will be rectified at their expense. Quakers Road, from the junction of Bromley Heath Road to Queensholm Crescent, was re-surfaced following major work by Bristol Water. A table top crossing has been installed outside Bromley Heath Schools and the remainder of Quakers Road has been resurfaced. A speed limit of 20mph exists past the schools.
Cleeve Road and Four Acre Road (between Quakers Road and Badminton Road) were resurfaced in April 2017.
A major part of Bromley Heath Road has been resurfaced following completion of the first section of the Rapid Transit Scheme along the A4174 Ring Road. Bromley Heath Road suffered a heavy increase with diverted traffic during the construction phase of the scheme.
Potholes
We regularly patrol the Parish to locate and identify potholes and these are reported to South Gloucestershire Council who are responsible for the state of our roads and for repairing potholes. Potholes can be reported direct to South Gloucestershire Council on their dedicated pothole web page – under 'P' on the A-Z list at www.southglos.gov.uk.
Cycle Lanes
South Gloucestershire Council is responsible for the state of the cycle lanes in our Parish. The section on Badminton Road near the junction with Cleeve Park Road was in a bad state and has recently been repaired.
Cycle Path
Trees & vegetation have been cut back along the cycle path between Badminton Road and Bromley Heath Road and lighting has been installed to make the path safer. Cyclists are asked to use their lights and bells, when necessary, to ensure pedestrians are aware of their presence.
Cycle Maps
Cycle maps are available from Downend Library and cover the following areas:
South Gloucestershire Map covers Patchway, Bradley Stoke, Thornbury, Alveston, Winterbourne, Yate, Chipping Sodbury and Frampton Cotterell.
Bristol Map covers Avonmouth, South Bristol, Bristol City Centre and Kingswood.
Cycle Stands
Cycle stands have recently been installed alongside the play areas at Bromley Heath Park and King George V, and alongside the car parking areas in King George V (Westerleigh Road entrance) and Badminton Road Playing Fields (Sutherland Avenue entrance), bringing our total to 56 (excluding cycle stands in schools).
Flashing Speed Signs
Data from the flashing speed sign installed on Cleeve Hill in 2014 demonstrated a high incidence of speeding traffic. The Speedvisor will be re-installed to allow further data to be gathered before South Gloucestershire Council decide the best course of action. The Speedvisor will also be used on other roads as necessary.
Pedestrian Refuge
White lines have been painted around the pedestrian refuge on Westerleigh Road between Sainsbury's and the Horseshoe, to make the refuge more visible to drivers and safer for pedestrians.
Pavements
The pavement on Badminton Road from Cleeve Avenue to Church Lane was resurfaced in 2014 and is a great improvement.
Pavement Obstacles
As far as we are aware all pavement obstacles have now been removed. If you are aware of any that remain please contact clerk@dbhparishcouncil.co.uk or call 0117 9567001.
Graffiti
Many of the street cabinets in our parish suffer from graffiti. We have asked BT Openreach and Virgin to repaint using vandal proof paint to combat this. Removing graffiti often causes more unsightly damage to the cabinets.
Welcome to Downend signs

Some signs have been installed across the parish welcoming visitors to the area.
These also help to delineate our boundary.